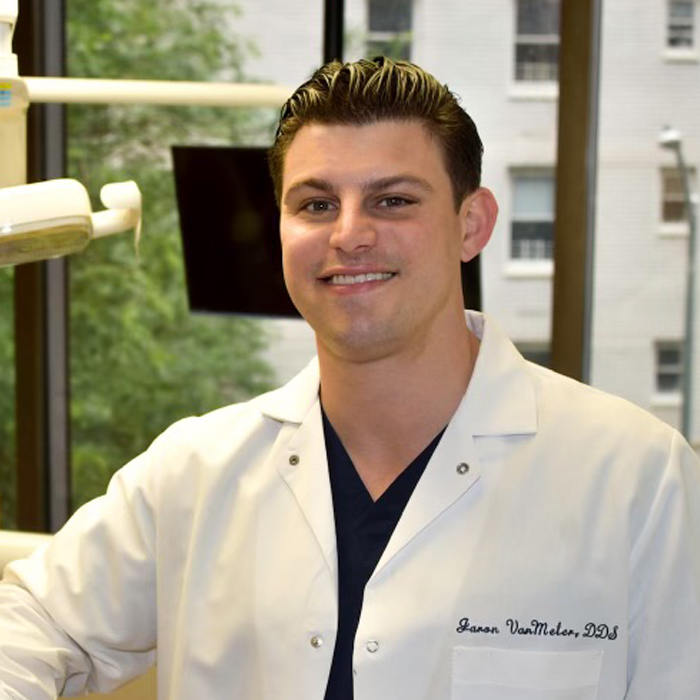 Dr. VanMeter is committed to providing a high quality, care-driven environment for his patients.
A graduate of LeMoyne College (Syracuse, NY) and the State University of New York at Buffalo School of Dental Medicine, Dr. VanMeter earned summa cum laude honors and his Doctorate of Dental Surgery. After completing his residency at Kings County Hospital, he accepted a position and began practicing in White Plains, NY. In recent years, Dr. VanMeter has transitioned to Manhattan Dental Arts, where he has continually increased his role and is now the full-time doctor on staff. In order to provide his patients with the best treatment options, Dr. VanMeter eagerly continues his education – learning the most advanced techniques involved in cosmetic dentistry, endodontics (root canals), and dental implantology. He is dedicated to embracing the rapid improvements in technological procedures as they become available.
Although dentistry has been his passion for countless years, Dr. VanMeter still finds time to enjoy life. In his leisure time he enjoys playing intramural soccer, snowboarding, running, weight training, hiking, and cooking. Dr. VanMeter is an active member of the American Dental Association, the New York State Dental Association, the First District Dental Society, and American Academy of General Dentistry.
As a provider for Manhattan Dental Arts, Dr. VanMeter's goal to employ his vision for patient-oriented treatment by developing strong patient-dentist relationships and establishing clear lines of communication. This methodology allows for more holistic care, as well as noticeably more comfortable and reassured patients.